SEPTEMBER 19, 2017: OUR NEWEST ISSUE IS HERE (Vol 4, No 2, 2017). READ FOR FREE NOW. REGISTER FOR FUTURE UPDATES AND NOTIFICATIONS.
East/West: Journal of Ukrainian Studies is an open access, scholarly, peer-reviewed, online journal, based at the Canadian Institute of Ukrainian Studies, University of Alberta, under the editorship of Professor Svitlana (Lana) Krys, Kule Chair in Ukrainian Studies (MacEwan University).
The aim of EW:JUS is to advance and disseminate innovative interdisciplinary research and critical debate in all aspects Ukrainian Studies by publishing original research articles, reviews and review articles.  EW:JUS encourages submission by academics, graduate students, and policymakers of previously unpublished work. The journal welcomes themed issues by guest editors, original scholarship presented at conferences and is open to sponsoring online forums for scholarly debates and exchanges. The journal will accept research that incorporates web technologies and multimedia (e.g., audio, video and visual materials).
Українським видавництвам
Схід/Захід: Журнал українських студій запрошує українські видавництва висилати нам рецензійні примірники нових видань на українську тематику. У свою чергу, ми гарантуємо якнайскорше призначення книжки на рецензію і публікацію рецензії з метою розповсюдити інформацію про українські видання у англомовному світі. Примірники просимо висилати на ім'я Tані Стех.
Announcements
Changing of the Guard at EWJUS: Dr. Oleh S. Ilnytzkyj steps down as Editor-in-Chief

With several personal projects in the pipeline, I have decided that this would be a good time to pass the baton of Editor-in-Chief to Dr. Svitlana Krys, Kule Chair in Ukrainian Studies & Assistant Professor at MacEwan University.

Posted: 2016-10-03
More...

Call for Papers: Language, Identity and Ideology in Ukrainian Media

Special issue of East/West: Journal of Ukrainian Studies (EWJUS)

Guest Editors: Dr. Volodymyr Kulyk (Institute of Political and Ethnic Studies, National Academy of Sciences of Ukraine) and Dr. Alla Nedashkivska (University of Alberta, Canada)

Posted: 2016-08-10
More...
Vol 4, No 2 (2017): EAST/WEST: JOURNAL OF UKRAINIAN STUDIES (ISSN 2292-7956)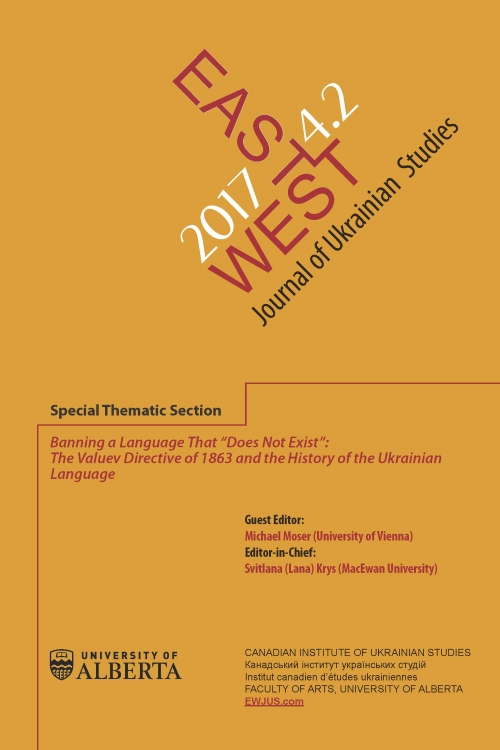 Vol 4, no 2 (2017). Cover design: Halyna Klid (CIUS).